Industrial news

Home Industrial news News Content
Ball Mill and Grinder, Which One Is Finer?
AUTHOR: admin DATE: 20 Apr 2015 11:19:37
The rapid development of industry cannot leave the electric power supply, and the electric power supply is dependent on coal combustion which is bound to cause environmental pollution. Therefore, the faster the industry develops, the more serious the environmental pollution will becomes. Hence, power plant desulfurization is imperative.
Ball mill is one of the most widely used limestone pulping equipment in power plant desulphurization. But there are many shortcomings in its operation. While the grinder is widely used by virtue of its low power consumption, low noise and easy operation. Our grinder is a kind of high-efficiency and energy-saving equipment combined drying with grinding. In addition to the application in power plant desulfurization, it has also made big contributions to coal powder production, slag grinding, gypsum powder milling, non-ferrous metal industry, nonmetal ores grinding and other projects.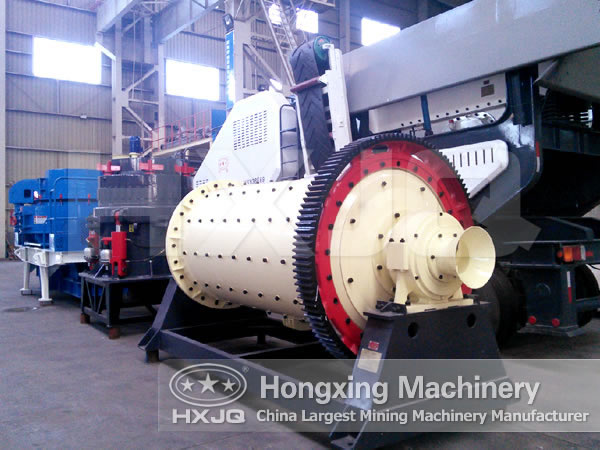 Compared with ball mill, grinder's advantages mainly lie in:
1. High grinding efficiency. The grinder adopts material layer grinding principle, with low energy consumption. The electric power consumption of the grinder is lower than that of ball mill by 20% to 30%, and with the increase of material water content, the electricity saving effect is more significant.
2. Strong drying ability. The grinder makes use of hot air to convey materials. When grinding materials with large material moisture content, we can control the inlet air temperature to ensure the products meeting the final moisture requirement. The grinder can dry and grind materials with moisture content up to 15%.
3. Stable chemical composition and uniform granularity. It only takes 2 or 3 minutes for materials staying in the grinder's cavity, while it will take 15 to 20 minutes to stay in ball mill. So the product chemical composition and fineness of grinder can be quickly measured and revised.
4. Small abrasion and high utilization rate. Because in the operation of grinder, there is no direct contact between metals. Therefore, the grinding media is slightly worn, with a unit product abrasion of 5 to 10 g/t.
5. Low noise and little dust. In running the grinder's grinding roller doesn't contact with the abrasive disk directly. It is of low noise lower than that of the ball mill by 20 to 50 dB, because there is no such sounds coming from steel balls colliding with each other and steel balls knocking the lining board in the ball mill. In addition, the grinder adopts full sealing system, and operates under negative pressure, clean without dust.
Related Articles:

Quick Message
Note: If you're interested in the product, please submit your requirements and contacts and then we will contact you in two days. We promise that all your informations won't be leaked to anyone.