Concentrator Table

Home products Ore dressing machine Concentrator Table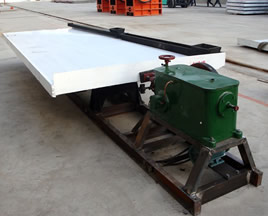 Concentrator Table
Wide range of applications
Easy operation
Overview
Concentrator table is also called shaking concentrator or table concentrator, which is a mine selecting machine for fine materials and it works by gravity. It is widely used in selection of tin, tungsten, gold, silver, lead, zinc, tantalum, niobium, iron.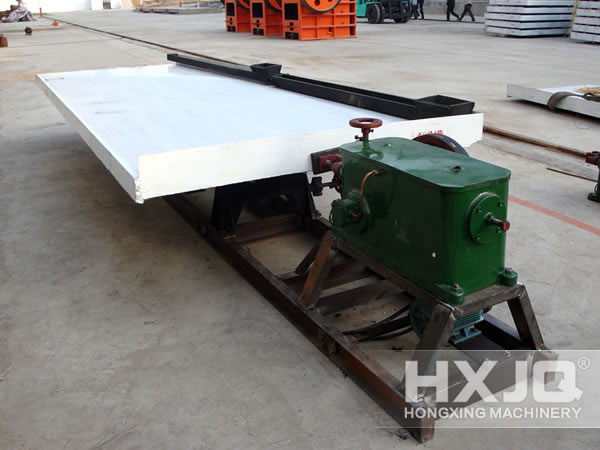 Advantages of Concentrator Table:
1. Fine water-resistance, chemical resistance, corrosion resistance, abrasion resistance, etc;
2. We can simplify the repair and painting process, which directly reduces the maintenance cost, greatly increases recovery rate, and prolongs the life of machines. Concentrator table is the best product for mineral processing machine updating.
Structure of Concentrator Table:
(1) Head Motion: The head motion is of rugged construction and requires minimum maintenance. Its internal mechanism is splash lubricated from an integral oil sump.
(2) Decks: The decks are built of 16 mm zircon-reinforced fiberglass with fabricated steel frames at the bottom and are easy to clean, requiring little maintenance. The specific gravity of fiberglass made into decks is one third of steel, while its strength reaches as high as 70%. This fiberglass desk also has the characteristics of water-resistance and corrosion-resistance and can hold the shape unchangeable at ±50℃.
(3) Feed and Water Box: A wooden feed distributing box with hopper and a long water box are attached to the iron of the deck, giving a very even distribution of feed and water.
(4) Base: A choice of ordinary type, groove steel support or big channel steel support is available.
Application of Concentrator Table:
Concentrator tables are designed to wet gravity-based separation of minerals and other granular materials. There are many applications where the concentrating table is of particular value and cannot be equaled for economical and efficient performance. They are effective in processing precious and base metal, rare metal and non-metallic minerals.
Concentrator Table Price:
Purchasing concentrator table not only emphasizes price of concentrator table but also quality and scale of company. It is good to visit companies. Hongxing Company has large scale, advanced technology, good after-sale service and reasonable concentrator table price. Welcome new and old customers to order!
Technical Data
Name
Grit
concentrator
table
Fine sand
concentrator
table
Sludge
concentrator
table
Bed surface
Dimensions
Length
(mm)
4450
4450
4450
Driving
part Width
(mm)
1855
1855
1855
Concentrate
part Width
(mm)
1546
1546
1546
Max.feeding
size(mm)
2
0.5
0.15
Feeding
amount
(t/d)
30-60
10-20
15-25
Feeding
thickness
(%)
25-30
20-25
15-25
Stroke
(mm)
16-22
11-16
8-16
Frequency
(f)
45-48
48-53
50-57
Bed surface
Water quantity
(t/d)
80-150
30-60
10-17
Bed surface
Horizontal
obliquity(°)
2.5-4.5
1.5-3.5
1-2
Bed surface
Portrait
obliquity(%)
1.4
0.92
----
Table board
corner(°)
32-42
40
42
Concentrating
area(㎡)
7.6
7.6
7.6
Bed surface
Length ratio
2.6
2.6
2.6
Shape of
side-bed
surface
Rectangle
Zigzag
Triangle
Motor
power(kw)
1.1
1.1
1.1
Transmission
device
Eccentricity Linkage
Quick Message
Note: If you're interested in the product, please submit your requirements and contacts and then we will contact you in two days. We promise that all your informations won't be leaked to anyone.