Cone Crusher

Home products Stone crushing machine Cone Crusher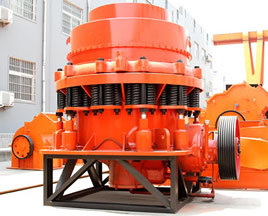 Cone Crusher
Simple structure, steady performance
Easy maintenance, high productivity
High efficiency, high quality
Low cost
Overview
The China cone crusher is a machine used for breaking big rocks into minor rocks, gravels or rock dusts. The crusher is widely used for all kinds of medium and fine crushing rocks with compressive strength under 350MPa in mining, cement industry, sand industry, metallurgy and other fields. It is especially suitable for materials with Mohs hardness under the range of 5-16, such as iron ore, non-ferrous metallic ore, granite, limestone, quartzite, sandstones, pebbles, etc.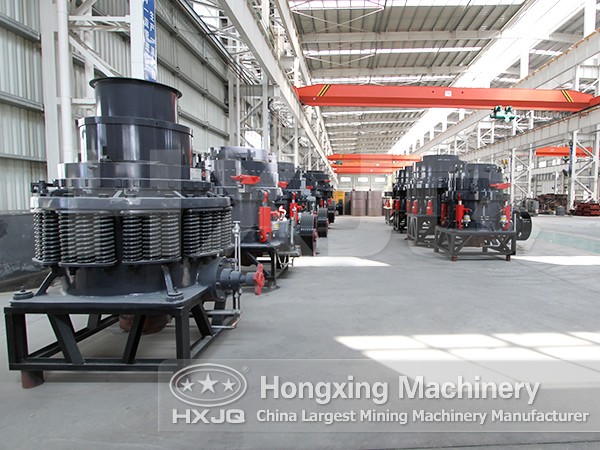 The characteristics are simple structure, steady performance, easy maintenance, high productivity, high efficiency, high quality, etc.
This series of cone crushers can be subdivided into coarse crushing cone crusher, medium crushing cone crusher and fine crushing cone crusher. Customers can choose any type needed.
Crushing cavity is specifically designed for different uses. The standard type is used for coarse and medium crushing while the short head type for medium and fine crushing.
Working Principle of the Cone Crusher
When the cone crusher is working, the engine rotates around a fixed point driven by the belt wheel or the coupling. The transmission shaft and the conical part of the cone crusher swing under the force from the eccentric bushing, which makes the crushing wall close to the pierced mortar wall at intervals. Then, the ores will be impacted, squeezed and bent constantly in the crushing chamber. At last, the whole ore crushing process is finished.
The perfect combination of high-performance crushing chamber and high crushing frequency improves the handling ability of the cone crusher to a greater degree.
Functions and Features of the Cone Crusher
The spring safety system of the cone crusher can achieve insurance when foreign matters get into the crushing cavity or when the machine is overloaded for other reasons. The uncrushed materials will be discharged through the enlarged port to get out of the crushing cavity. Due to the effect of the safety system, the discharging port will be restored, which makes the cone crusher work normally again.
Technical Data
Specification
Model
Diameter
of large
end of
crushing
cone
(mm)
Max.feeding
size(mm)
Width of
discharge
opening
(mm)
Processing
capacity
(t/h)
Motor
power
(kw)
Total
weight
(t)
Φ600
PYB600
600
65
12-25
40
30
5
PYD600
35
3-13
12-23
5.5
Φ900
PYB900
900
115
15-50
50-90
55
11.2
PYZ900
60
5-20
20-65
11.2
PYD900
50
3-13
15-50
11.3
Φ1200
PYB1200
1200
145
20-50
110-168
110
24.7
PYZ1200
100
8-25
42-135
25
PYD1200
50
3-15
18-105
25.3
Φ1750
PYB1750
1750
215
25-50
280-480
160
50.3
PYZ1750
185
10-30
115-320
50.3
PYD1750
85
5-13
75-230
50.2
Φ2200
PYB2200
2200
300
30-60
59-1000
280-260
80
PYZ2200
230
10-30
200-580
80
PYD2200
100
5-15
120-340
81.4
Quick Message
Note: If you're interested in the product, please submit your requirements and contacts and then we will contact you in two days. We promise that all your informations won't be leaked to anyone.