Industrial news

Home Industrial news News Content
Compound Pendulum Jaw Crusher Drives the Development of Mining Machinery Industry
AUTHOR: admin DATE: 16 Jan 2013 02:14:07
With the rapid development of our national economy, the comprehensive utilization technique of mineral resources has made big progress. China has built about ten thousand mines; the output value has reached one hundred billion. This is inseparable from the boom of mining machinery industry. Among them, compound pendulum jaw crusher is a 'hero' which drives the development of the mining machinery industry.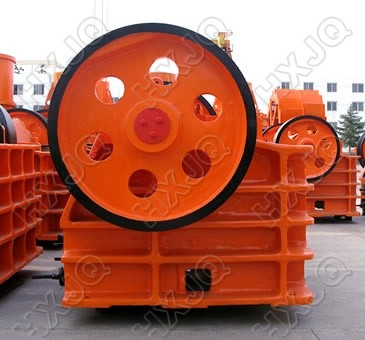 The crush of the materials is the indispensable process to many industries, such as: building materials, metallurgy, chemical industry, road construction, ceramics and other industries. Because of the different physical property and the structure of the material, the type of the crusher is also multifarious. To the coarse crush of the material, there is no new equipment that can replace the traditional jaw crusher and the gyratory crusher. To the fine crushing of the material, there are many kinds of machines. Among them, jaw crusher has the advantages of reliable work, simple structure, easy manufacture, easy maintenance and wide application. It has becomes the most widely used equipment.
However, the traditional jaw crusher cannot realize the continuous crush, and the efficiency is low, the crush ratio is low. Facing with these disadvantages, we have produced the new type of jaw crusher, namely compound pendulum jaw crusher, which is used for crush the medium hard stone.
Compound pendulum jaw crusher has the advantages of high production efficiency, simple structure, easy manufacture, reliable performance, and easy maintenance. It mainly composed with two jaw plants (swinging jaw and fixing jaw). The fixing jaw is fixed, the movable jaw do cyclical reciprocating motion around the fixed jaw, sometimes separately, sometimes close, and thereby the stone between the two jaws will be squeezed and broken by the splitting and bending action.
With the progress of mechanical industry, compound pendulum jaw crusher also develops towards the large scaled direction. Nowadays, the improvement of its structure makes itself more conform to the crushing requirement. These measures make the performance of compound pendulum jaw crusher more smoothly, which greatly improve the quality of production. So the compound pendulum jaw crusher plays a greater role in promoting the development of the machinery industry.
Related Articles:
The Analysis of Structure Factors of Jaw Crusher Introducing the Hongxing Series Jaw Crusher MachineHongxing Analyzes How to Adjust the Discharging of Jaw Crusher Professional Jaw Crusher Choose Hongxing Manufacturer The Reasons of Abnormal Vibration of Jaw CrusherWollastonite is the New Market for Jaw Crusher
Quick Message
Note: If you're interested in the product, please submit your requirements and contacts and then we will contact you in two days. We promise that all your informations won't be leaked to anyone.