Product Knowledge

Home Product Knowledge News Content
Some Information about Cone Breaker
AUTHOR: admin DATE: 09 Oct 2012 01:38:02
The cone breaker is similar in operation to a gyratory crusher, with less steepness in the crushing chamber and more of a parallel zone between crushing zones. A cone crusher breaks rock by squeezing the rock between an eccentrically gyrating spindle, which is covered by a wear resistant mantle, and the enclosing concave hopper, covered by a manganese concave or a bowl liner.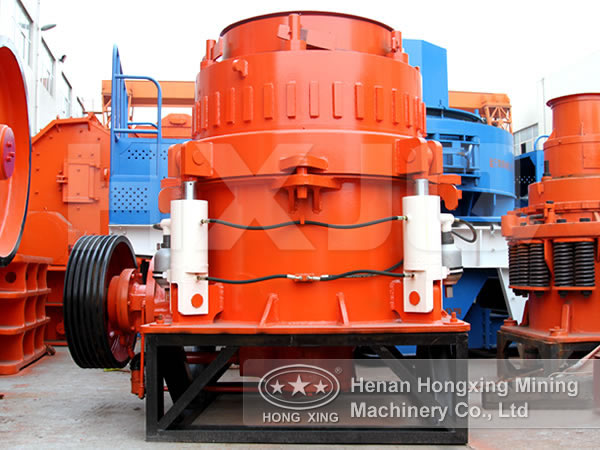 A Brief Introduction to Cone Breaker
The cone breakers are widely applied in cement making industry, building, sand making, metallurgical industry, etc. They are suitable for both metallic minerals and non-metallic minerals, such as iron ore, nonferrous metal ore, granite, limestone, quartzite, sandstone, pebble, etc. Cone breaker can also be divided into gyratory cone crusher and hydro cone crusher.
The Features of Gyratory Cone Breaker
1. The features of cone breaker: high crushing ratio and production efficiency.
2. Consumption of quick-wear parts is further reduced and operating cost is low.
3. Laminating crushing enables the finished product to have excellent shape.
4. Rail oil lubricating ensures reliable performance and lengthened service life.
5. Higher production capacity, best product shape and easier automatic control.
The Working Principle of Hydro Cone Crusher
As rock enters the top of the cone crusher, it becomes wedged and squeezed between the mantle and the bowl liner or concave. Large pieces of ore are broken once, and then fall to a lower position (because they are now smaller) where they are broken again. This process continues until the pieces are small enough to fall through the narrow opening at the bottom of the crusher. Cone crusher is the perfect combination of crushing stroke, crushing speed and crushing chamber, which adopts unique laminated crushing principle. And the inter-particle crushing makes the grain type of finished product more beautiful and the level more reasonable. The hydraulic and lubrication systems controlled by double insurance ensure the overload protection and good lubrication
Related Articles:

Quick Message
Note: If you're interested in the product, please submit your requirements and contacts and then we will contact you in two days. We promise that all your informations won't be leaked to anyone.