Product Knowledge

Home Product Knowledge News Content
The Conveyor Belt in Conveyor Belt System
AUTHOR: admin DATE: 07 Oct 2012 02:22:57
Conveyor belt (convery belt) is the materiel transporting machine which transports the materiel in a certain line. It is the key equipment in conveyor belt system. Conveyor belt also can be named elevating conveyor belt. The belt conveyor can carry horizontal, oblique and vertical transporting and also can be composed into a space conveying line. Then we will introduce the commonly used devices in this system.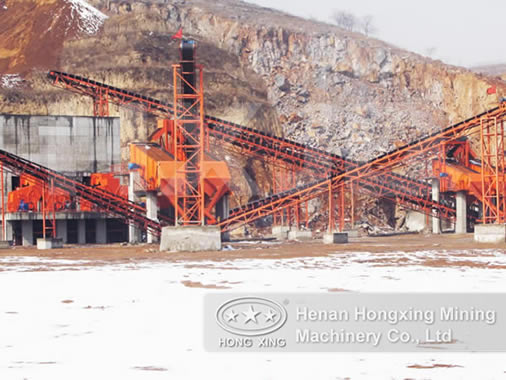 Bucket Hoist Conveyor
The bucket hoist conveyor hoists the material from the nether storage to the top along with the conveyor belt. After bypassing the top wheel it turns downward, and the bucket elevator dumped the material into the tank. It has many advantages, such as: Machine aesthetic appearance, small volume, low power consumption, large conveying capacity.
1. The bucket hoist conveyor is suitable for transporting powdery, granular and small block materials, such as coal, cement, gravel, sand, clay, mineral ore, etc.
2. The hoisting height is adjustable.
3. The temperature of conveying material is less than 60°C.
4. It is equipped with back-stop device to prevent material flowing backward.
Elevating Conveyor Belt
Elevating conveyor belt is widely used in metallurgy, mining, coal, chemical, hydropower and other industries to transfer sandy or lump material, or packaged material. The circumstance temperature should range from minus 20 Celsius degree to plus 40 Celsius degree; The temperature of transferred material should be lower than 50 Celsius degree.
Many conveyor belts work on the principle of variable speed control. If a particular belt moves too slowly, workers may find themselves waiting for parts. If a conveyor belt moves too quickly, parts may be damaged or workers may become overwhelmed. Much of a factory supervisor's time is spent adjusting conveyor belts for maximum efficiency. According to years of experience in conveyor design and manufacture, Hongxing can produce many kinds of conveyor, such as: mining belt equipment. We will try our best to satisfy your requirement.
Related Articles:

Quick Message
Note: If you're interested in the product, please submit your requirements and contacts and then we will contact you in two days. We promise that all your informations won't be leaked to anyone.