Product Knowledge

Home Product Knowledge News Content
Hongxing Introduces the Commonly Used Hammer Mill
AUTHOR: admin DATE: 05 Oct 2012 10:41:47
A Brief Introduction to Hammer Mill Crusher
The hammer mill crusher, also called the hammer crusher machine, hammer mill, hammering machine, is used to crush all kinds of medium hard and brittle materials of little-abrasion, whose compressive strength is no more than 100MPa and moisture content less than 15%, such as coal, salt, chalk, gypsum, tile and limestone. It is also used to crush fiber structure, cracked wood of strong elasticity and toughness, paper, or the waste of cracked asbestos cement to recycle the asbestos fiber and so on. Moreover, the hammer crusher can not only be used in the crushing product line and the sand making product line, but also be used as the cone crusher in the ores dressing product line.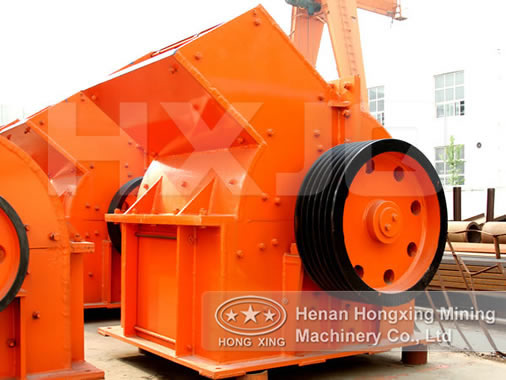 The Performance of Hammer Crusher Machine
According to statistics, more than 80% raw materials of cement production line are crushed though hammer crusher machine in primary crushing and impact crusher as secondary crushing equipment, or merely through hammer crusher machine. So hammer crusher machine plays a very important role in cement production line. At present, double rotors hammer crusher machine from Hongxing company is the first developed and the biggest hammer crusher machine, which claims the title of aircraft carrier of crusher.
The Application of Hammering machine
The development of hammering machine in China was very slow before the 1970s, and is fast in recent decade, and it has formed universal medium crushing and fine crushing series and coal medium crushing and fine crushing series with more than ten specifications. The irreversible hammering machine is generally used for medium crushing, and the reversible hammering machine is generally used for fine crushing. In addition, one-stage hammering machine is used for crushing the materials with the granularity of 1900mm such as limestone into 25mm just for once, which simplifies the traditional two or three stage crushing into one crushing , thus saving a lot of infrastructure and production expenditure.
Related Articles:

Quick Message
Note: If you're interested in the product, please submit your requirements and contacts and then we will contact you in two days. We promise that all your informations won't be leaked to anyone.