Industrial news

Home Industrial news News Content
How to Modify the Motor Structure of VSI Impact Crusher?
AUTHOR: admin DATE: 20 Feb 2016 12:34:03
When the VSI impact crusher is in operation, its electric motor usually breaks down for some reasons. Next, we will introduce several major reasons for you.
1. The front end of motor at work is bearing strong axial force and radial force and exciting force coming from violent vibrations which are beyond the rated load, thus causing bearing failure;
2. The front-end cap is made from HT150, with feeble structure, so in the case of stronger stress, it is liable to fracture;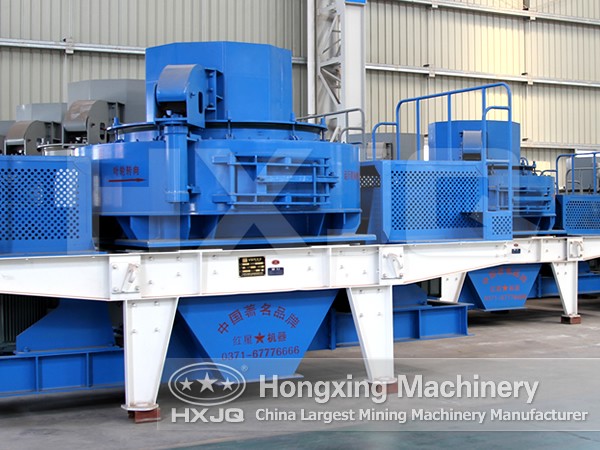 3. Regular vibrations lead the screw joint to loose, especially the small cap outside the front-end cover liable to damage or falling off, causing the rotor to move down;
4. The clearance between the small cap hole on the front cover and the shaft neck is a bit larger, making the stress and temperature of the front bearing growing up, leading to grease leakage.
Through analyzing the causes, the structure of the motor can be re-designed as following.
1. Change the bearing material and make it more conform to the force-bearing demand during work; Change the rotor shaft at the same time; The front shaft should be 63 mm wide, equal to the bearing width, and the size of shaft extension should also be adjusted accordingly.
2. Change the manufacturing material of the front cap for ZG35, and increase the wall thickness dimension in where is easy to occur cracks.
3. Undo the lateral small cap to make it as a whole with the front cap, and increase its thickness.
4. Add oil passage on the front cap and set up nozzle, so as to be convenient for lubrication; Inlay framework oil seal on the front cap to ensure the lubricating oil not to leak and prevent dust into the bearing.
The above modification is able to effectively eliminate the occurrence of abnormal damages to the electric motor.
Related Articles:

Quick Message
Note: If you're interested in the product, please submit your requirements and contacts and then we will contact you in two days. We promise that all your informations won't be leaked to anyone.