Product Knowledge

Home Product Knowledge News Content
Introducing the Hongxing Series Jaw Crusher Machine
AUTHOR: admin DATE: 06 Oct 2012 12:17:24
Hongxing series jaw crusher machine (jaw crusher plant) has a series of advantages, such as: simple structure, reliable operation, easy maintenance, low cost. This series of crusher is mainly used in metallurgy, mining, chemical, cement, construction, refractoriness and other industrial. Here I will introduce two kinds of commonly used jaw crusher.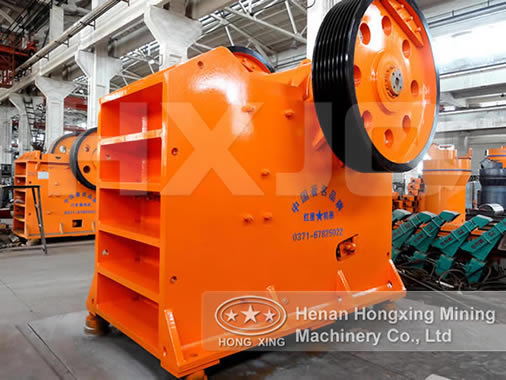 Mini Jaw Crusher
Mini jaw crusher is a crusher concept which is opposite to large scale crushing plants. It is welcomed with same features including low energy consumption, easy maintenance and installation. Mini jaw crusher is widely applied in small rocks crushing process, small quarry processing and small stone breaking stages.
But there are also some tips you should pay special attention to in the working process:
1. When crushing material, the discharging port of jaw crusher is able to be adjusted to crush material to certain granularity.
2. Check the tension of triangle belt and wear condition. If too loose or tight or seriously worn, you should timely adjust or change belt.
3. Check the wear condition of the guard board on two sides of crusher. For example, if wear is serious, guard board should be changed timely.
4. Adjust the feeding size of the palate plate according to the strict technological requirements for size.
PE Jaw Crusher
PE jaw crusher is mainly used in medium size crushing of rocks and bulk material, whose compressive strength is below 320Mpa. Jaw crusher is widely used in mine, metallurgy, the building, road and railroad construction, hydraulic construction, chemical industry, fire-proofing material and ceramics.
The motor transmits power through belt, and drives the moving jaw to do periodic motion towards the fixed jaw by the eccentric shaft. The angle between toggle plate and moving jaw plate increases when moving jaw moves. So the moving jaw moves towards the fixed jaw. The stuff will be crushed during this process. The angle between toggle plate and moving jaw decreases when moving jaw moves down, the moving jaw leaves fixed jaw by pulling rod and spring, the crushed stuff will be discharged from the outlet.
Related Articles:

Quick Message
Note: If you're interested in the product, please submit your requirements and contacts and then we will contact you in two days. We promise that all your informations won't be leaked to anyone.