Product Knowledge

Home Product Knowledge News Content
Professional Jaw Crusher Choose Hongxing Manufacturer
AUTHOR: admin DATE: 23 Oct 2012 10:36:40
Jaw Crusher is a kind of stone crusher, and it is also called rock crusher, jaw breaker, stone jaw crusher, single toggle jaw crusher and aggregate jaw crusher. This series of stone crusher plant can reach the crushing ratio of 4-6 and the shape of final product is even. The rock crushers are widely used in mining, building materials, chemical industry, and metallurgy and so on. It is suitable for primary and secondary crushing for all and rocks with compressive strength less than 320 MPa. In construction, road and railway building, construction and other industries are widely applied to crush high hardness, mid hardness and soft rocks and ores such as slags, construction materials, marble, etc.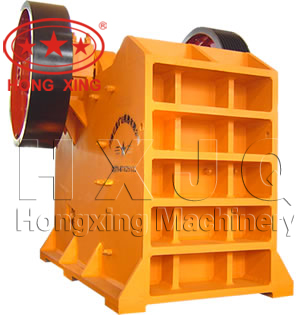 Working Principle of Jaw Crusher:
A jaw or toggle crusher consists of a set of vertical jaws, one jaw being fixed and the other being moved back and forth relative to it by a cam or pitman mechanism. The jaws are farther apart at the top than at the bottom, forming a tapered chute so that the material is crushed progressively smaller and smaller as it travels downward until it is small enough to escape from the bottom opening. The movement of the jaw can be quite small, since complete crushing is not performed in one stroke. The inertia required to crush the material is provided by a weighted flywheel that moves a shaft creating an eccentric motion that causes the closing of the gap.
Single and double toggle jaw crushers are constructed of heavy duty fabricated plate frames with reinforcing ribs throughout. Manganese steel is used for both fixed and movable jaw faces. Heavy flywheels allow crushing peaks on tough materials. Double Toggle jaw crushers may feature hydraulic toggle adjusting mechanisms.
Hongxing specializes in the production of mining crusher machinery equipment, mainly including vibration feeders, PE series toggle jaw crushers, PE series impact crushers, vibration screens and conveyor belts.
Related Articles:
The Structural Analysis of the Toggle Plate of Jaw CrusherThe Research Direction of Jaw CrusherThe Material Selection for Spare Parts of Jaw CrusherThe longevity of Red Star jaw crusher bearingHongxing Machinery Introduces a New Type of Jaw CrusherTake Appropriate Method to Maintain the Jaw Crusher
Quick Message
Note: If you're interested in the product, please submit your requirements and contacts and then we will contact you in two days. We promise that all your informations won't be leaked to anyone.