Product Knowledge

Home Product Knowledge News Content
Introduce to Some Common and Major Rotary Kilns
AUTHOR: admin DATE: 09 Oct 2012 02:13:08
Rotary Kiln belongs to building materials equipment. According to different materials dealing with, it can be divided into lime rotary kiln, clay rotary kiln, ore rotary kiln, mineral rotary kiln. According to different usage, it can be divided into cylinder rotary kiln, dry process rotary kiln, and wet process rotary kiln.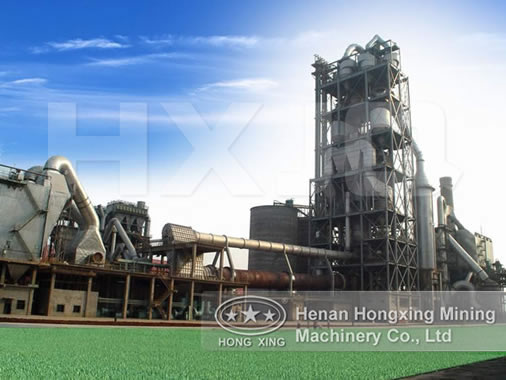 Lime Rotary Kiln:
Lime rotary kiln system Process: Put the qualified limestone into the storage bin, then lift and transport them into the pre-heater silo. The feedstock is controlled by the two upper and lower level meter, and then is evenly distributed to the pre-heater through the rotary kiln's discharge.
Ore Rotary Kiln:
Ore rotary kiln is known as a rotary dryer, it has advanced structure and low pressure loss. Vertical preheater can effectively improve the warm-up effect so that the decomposition rate of ore can be up to 20-25%.
Mineral Rotary Kiln:
The rotary kiln has simple structure, convenient and reliable control during the production process, few wearing parts and high operation ratio. It is used for calcinating high standard cement in cement factories, but also widely used in metallurgy, construction and chemical industry. The rotary kiln produced by our factory has strong structure, smooth operation, and high quality products. Besides, we provide our customers with advanced and efficient shaft preheater and five stage cyclone preheater.
Dry Process Rotary Kiln:
Compared with the wet-process rotary kiln, the dry-process makes the raw meal into the raw dry meal which has less than 1% moisture content. So it saves the heat needed in evaporation of water in the wet-process. The hollow type kiln has a lager amount of heat consumption due to its high temperature of waste gas.
Wet Process Rotary Kiln:
The cement rotary kiln used in wet type production, which produces slurry with water content of 32%-40% from raw materials, is called the wet type rotary kiln. Due to the liquidity of the slurry, the raw materials are sufficiently mixed, making clinker of high quality, which is the main advantage of wet production.
Related Articles:

Quick Message
Note: If you're interested in the product, please submit your requirements and contacts and then we will contact you in two days. We promise that all your informations won't be leaked to anyone.