Industrial news

Home Industrial news News Content
Smooth Roll Crusher Installation and Discharging Granularity Adjustment
AUTHOR: admin DATE: 27 Oct 2015 10:34:45
Smooth roll crusher should be fixed on a specially designed foundation. In order to better withstand the compensating force generated during machine's operation, we can place a sleeper wood under the chassis and make the whole machine nestle up to the sleeper wood. And set aside space for discharging.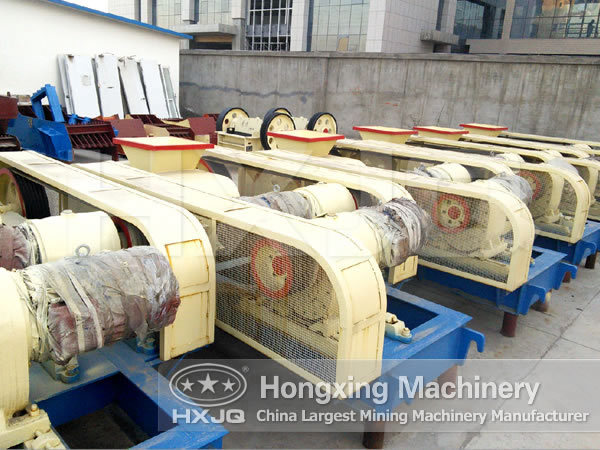 This smooth roll crusher is supplied in a complete assembly, so we must carefully check whether the machine is damaged in the transportation course, and if the sliding parts and lubrication sections rust or corrode. After the machine is confirmed intact, then it can be installed. After pinpointing the level, then install the transmission parts in accordance with the drawings. The driving belt should be adjusted to the position with proper tightness, so should the pressure spring.
After the installation is finished, we also should strictly check the fastening parts to see if there is any looseness.
The adjustment of discharging granularity:
Between the two rollers of the smooth roll crusher, there is wedge or gasket adjusting device. On the top of the wedge adjusting device, there is equipped with adjusting bolts. When the adjusting bolts pull up the wedge upward, the wedge will lift the movable roller from the fixed one. Thus the gap between the two rollers will become larger and the discharging granularity will be enlarged correspondingly. When the wedge is downward, under the action of compression spring, the gap between the two rollers becomes smaller, so does the discharging granularity.
The gasket device is through increasing or decreasing the number or thickness of the gasket to regulate granularity. When increasing gaskets, the gap between the two rollers gets bigger, and the granularity increases as well; vice versa.
Related Articles:

Quick Message
Note: If you're interested in the product, please submit your requirements and contacts and then we will contact you in two days. We promise that all your informations won't be leaked to anyone.