Product Knowledge

Home Product Knowledge News Content
Take Appropriate Method to Maintain the Jaw Crusher
AUTHOR: admin DATE: 17 Oct 2012 11:00:32
Jaw crusher has a series of advantages. For example: big broken ratio, uniform particle size, simple structure, and easy maintenance. So it bear mainly broken task in the crushing process. The device is divided into coarse crushing device and fine crushing device. The compressive strength of the crushing material can up to 320mpa.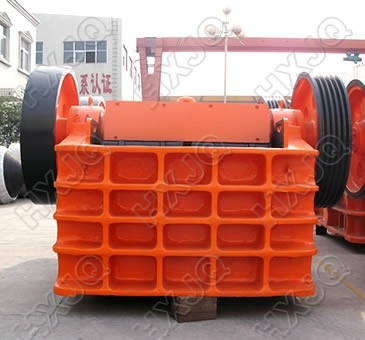 The main task of the jaw crusher in the crushing process is crushes the huge stones into small stones and makes good preparation for the next production processes. The development of the jaw crusher in crushing equipment is very long, so the manufacturing technology and equipment capabilities of jaw crusher are relatively mature at this stage. The materials from the top entrance come into the crushing chamber. Jaw teeth push the materials to the wall with great force in accordance with the requirements size of the materials. During operation of the equipment, the jaw teeth began to motion through the eccentric shaft. The movement of the eccentric supporting shaft is usually determined by the flywheel fixed on the shaft ends. Flywheel and eccentric support bearing often adopt spherical roller bearings; therefore the work environment of the bearing is extremely harsh. The bearing of the jaw crusher must withstand the tremendous impact load, abrasive sewage and high temperature test.
Only in normal operation, can jaw crusher be able to feed intake for production work. In normal operation of jaw crusher, the temperature of the bearing is generally not more than 30 ℃. When the jaw crusher is stopped, you should stop feeding. Until all the materials discharged can the machine normal parking. Because of its relatively poor working environment of jaw crusher, we should note the maintenance of the equipment in order to prolong the life of the equipment and ensure the production quality.
Related Articles:
The Structural Analysis of the Toggle Plate of Jaw CrusherThe Research Direction of Jaw CrusherThe Material Selection for Spare Parts of Jaw CrusherThe longevity of Red Star jaw crusher bearingHongxing Machinery Introduces a New Type of Jaw CrusherResearch on the Changing Rule of the Crushing Force of Jaw Crusher
Quick Message
Note: If you're interested in the product, please submit your requirements and contacts and then we will contact you in two days. We promise that all your informations won't be leaked to anyone.