Industrial news

Home Industrial news News Content
The Introduction of Iron Ore Dry Magnetic Separator
AUTHOR: admin DATE: 11 Dec 2015 11:59:35
Compared with the ordinary dry type magnetic separating machine, our iron ore dry magnetic separator has a more stable and stronger magnetism, lower demagnetizing rate, higher productivity and thorough separation. It's able to improve the iron ore grade significantly.
Iron ore dry magnetic separator is a type of commonly used magnetic separation equipment. It is mainly applied to the mining operations and able to promote iron ore grade by times. The ordinary dry magnetic separators generally adopt ferrite as their magnetic source. But because the ferrite has a weak magnetism and fast demagnetization, so the magnetic field of the ordinary magnetic separator is not strong enough and more liable to ore leakage, causing a waste of resources and reducing the economic benefits.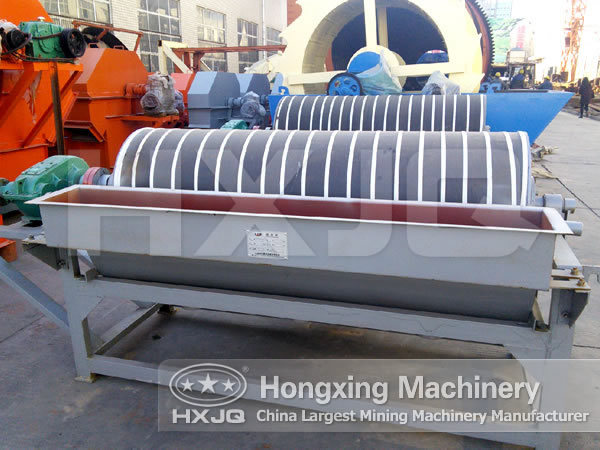 Our iron ore magnetic separator is very suitable for the dry-type separation of low-grade and weak-magnetism ferrous metal ores. It's capable of improving the ore grade by 5% to 18% for one time. Our iron ore dry magnetic separator has access to a strong magnetism that many other similar equipment cannot achieve. It can satisfy the separation requirements of low-grade iron ores.
Our iron ore dry magnetic separator has a variety of advantages.
1. High magnetic field intensity and high recovery rate. In the dry separation process of iron ores, the recovery rate is higher than 95%.
2. Stable magnetism. Even in poor working conditions, it can also keep a stable and durable magnetic force. At normal temperature, the demagnetization rate won't excess 5% within ten years.
3. The open-type moveable compound magnetic system and multi-layer separation, ensuring a high recovery rate of iron powder and improving iron ore grade.
4. No adhesion to the drum and no agglomeration, conductive to a higher output and thorough separating effect.
If you want to know more about our magnetic separation equipment, please leave us a message on the website and we will contact you as soon as possible. You consultation is welcome at anytime.
Related Articles:

Quick Message
Note: If you're interested in the product, please submit your requirements and contacts and then we will contact you in two days. We promise that all your informations won't be leaked to anyone.